Full-featured to save time, money, and headaches
A fit-for-purpose solution to address your needs
Amp Impact provides a flexible solution on the Salesforce platform to meet common monitoring and evaluation, program and project management, and grant management needs.
A single source of truth for portfolio data
Collaborate on portfolio data more efficiently and oversee delivery of multiple projects
Understand and communicate your impact
Use program insights to inform decision-making and improve delivery
Extend and scale your solution on Salesforce
Seamlessly integrate your solution with hundreds of native Salesforce and/or 3rd party tools
3 major product releases per year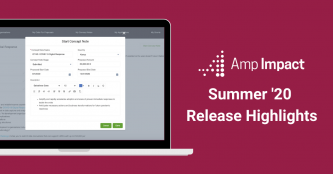 Delphinus Release Highlights: New Grant Applications and Reviews Module
Amp Impact Delphinus, the product's Summer '20 release, launches huge new features and enhancements for implementers and grantmakers. The most exciting addition is the Grant Applications and Reviews Module...
Amp Impact 'Cassiopeia' Release Introduces Multi-language Capability
Amp Impact Cassiopeia, the product's 11th release, is now available with a revolutionary update for multilingual organizations: the ability to view and export data in multiple languages. In collating feedback from our customers...
'Bellatrix' Release: IATI Data Publishing, Risk Management, Grantee Reporting
Amp Impact Bellatrix, the third release of 2019, is now available with trailblazing new features and enhancements for streamlined data sharing and risk management. We're especially proud of the collaboration efforts...
See Amp Impact's features in action